The Recruitment Game
Have you got what it takes?
Wednesday March 13, 2013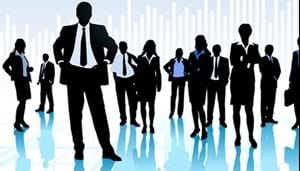 Getting into the game of recruitment..what does it take?
As the CEO of The Recruitment Company I have screened, shortlisted and interviewed hundreds of candidates looking to enter the world of recruitment.
Recruitment, being a sales based role in which people are essentially our commodity, can be a complex game. Often I've been asked what it takes to make it in a fast paced IT recruitment agency. This can be a difficult question to answer, because to this day I can still find it difficult to nail down exactly why some recruiters make it and others don't, when both show the same glowing promise at the outset.
But to address the question as best I can; when hiring new recruits, I look for four key things I believe are necessary in becoming a successful recruiter. 
1. Transferable skills and experience
Firstly I look for prior sales experience, whether that be selling products or services. When all is said and done recruitment is a sales based role. Any formal, or on-the-job sales training is highly advantageous.
I look for call centre, or similar phone based customer service experience, incorporating key skills such as confidence in dealing with customers over the phone, up selling, objection handling and problem solving . Genuinely good customer service is an integral part of a consultants role, and therefore all customer service experience is beneficial.
I look at entrepreneurial backgrounds which incorporate elements of sales and customer service, such as personal trainers for example, who have the ability to build and retain their network, as well as promote their  business. Recruitment gives consultants the opportunity to build their  business within a business, which takes both discipline and determination. Similarly strong sporting backgrounds are highly regarded.
Then I look at relevant industry specific degrees and experience for particular verticals, such as ICT or Sales and Marketing for example.
2. Attitude
Attitude is key. Skills can be taught, but attitude cannot. Attitude categorically underpins your ability to succeed in this game. When I hire I look for people who are drivers, not passengers. 'Go getters' that have that innate desire to succeed and who demonstrate clear patterns of successful behavior throughout their career. I look for people with a growth mindset who see their own ability to direct outcomes as key to ther success
3. Aptitude
Aptitude is about the  traits and competencies picked up along the way, enabling you to be successful in recruitment. Traits and competencies that embody a good recruiter are a competitive nature, perseverance, self drive, a hunger to succeed, resilience, integrity, an ability to build relationships and a commercial savvy to succeed.
4. Coachability
The coachability factor is essential to the success of training new recruits. Someone who is coachable is someone that has the ability to absorb and retain information, who wants to learn, and is willing to implement what's being taught into their daily practice to effect change. 
This is my outlook on great consultants in the making, what's yours? What do you think makes a great entry level recruiter? What traits have made you successful? I'd love to hear your views on what it ultimately takes to make it in recruitment. 
The Recruitment Company is currently hiring.  We're looking for amazing contract recruiters who work on a fast paced, well established IT desk. If you're interested then get in touch with me or check out our Join Us page. It's quite informative.  
We did a survey. The market thinks that only 13% of recruiters are 'exceptional'.  We like to think we are, are you? #areyouoneofthe13percent