Tales of untethered
Part 2: The Sydney Newbie
Tuesday November 1, 2016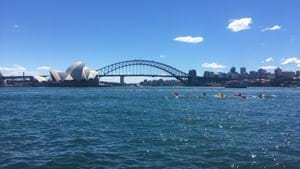 How does a flexible working environment work in recruitment?  Can it work? How does it impact recruiters and the business they work for?  In our 5 part series The Recruitment Company talks about our individual, first hand experiences with becoming what we like to call 'untethered'.
Part 2: The Sydney Newbie
9.30am, Friday, 28th October : I'm reclining on my balcony, iced strawberry smoothie in hand, basking in the amber glow of the Sydney spring sunshine. Doesn't sound like a typical working day, huh? That's why I love working for TRC. After an early start, I've just finished reviewing my ad response, catching up with colleagues via the wonders of WebEx, and boosting my tan. Time to head indoors for a home-cooked breakfast and back-to-back calls with hopeful Sydney candidates looking to secure their next professional Government placement. Little do the candidates know, I'm sat in my pyjamas! The corporate world is changing, and in my opinion, any organisation worth their salt will endeavour to offer flexible working arrangements for their employees. For me, this means maximising my free time at the weekend and making the most of my new hometown. Fitted in between candidate and client calls, my housework practically does itself – relieving the burden of a wasted Saturday morning of chores.
I arrived in Sydney just six months ago and am still discovering the palm-fringed beaches and craterous cliffs lining the endless rolling east coast of Sydney. Homeworking enables me to squeeze in tedious tasks during the week – who wants to waste the precious weekend knee deep in laundry?! Each week as Saturday morning comes around, I'm donning my backpack, trusty trainers and a slather of suncream in search of sunshine and snapchattable sights. I'm sure Christopher Columbus didn't waste any adventuring opportunities at home cleaning the kitchen in his pinny and marigolds! Sydney is an absolute gem of natural beauty. Just outside the city, Sydney is encircled by Royal National Parks, leafy woodlands sprawling as far as the Blue Mountains. There's nothing better than a weekend expedition in the bush off the back of a few random recommendations – equipped only with an iphone GPS and a hearty dose of good faith. Beginning my working day early from home on a Friday means I can make an early dart and miss the weekend rush. 
In my opinion, flexible working isn't just about setting up a home office, and as luck would have it, TRC feel the same. A super-productive week together as a team at TRC HQ means an organisation-wide incentive to take a half day on a Friday. As target approaches, our work hard, play hard gang pile out of the office on a high and hit the nearest watering hole for post work drinks. And it would be simply rude not to explore the Sydney bars as much as the beaches! With a multitude of swanky, dancey, poncey and manky venues in every nook and cranny of the Sydney CBD, our team never fails to find a new spot to visit – for the purpose of research, obviously!
The family culture at TRC is a big draw and it can be hard to tear yourself away from the buzz of the office once a week to work independently. This is where one of my favourite features of the untethered culture comes in. As grown adults (ahem…) we are entrusted to work our hours as we see fit during the course of the working day. Late start? No problem. Long lunch? Treat yourself. Our office is in the heart of Sydney, just a casual stroll from the Botanical Gardens, in all their verdant splendour. I'll take a two hour lunch, joined by one of my team, to make my daily pilgrimage through Sydney's exquisite floral wonderland – nestled between the towering grey heights of Circular Quay's business district, and the serene lapping water of the harbourfront. The geographic juxtaposition somehow works. Catamarans and speedboats cruise past as we chat and laugh along the winding path next to the water. Strolling back, we turn a corner to the affronting view of the Harbour Bridge and the Sydney Opera House, breathtaking each time without fail. Each day I take a moment to savour the international landmarks that I never thought I would see in a lifetime. There's something about the city, the park, the sea and those landmarks that reinvigorates me for the rest of the day.
Australia – Sydney – TRC – it's not a bad place to be.
If you've enjoyed the read, you're a recruiter or HR professional and my blog has sparked your interest in working for a company that does flexibility really well, check out our current opportunities here  or get in contact with my colleague Sarah for a confidential chat. [email protected] 
To see the rest of this blog series (there are another 5) follow us on Linkedin
Or find out what it would be like to work for The Recruitment Company here