5 examples of how Dublin's tech scene is still growing
Tuesday March 27, 2018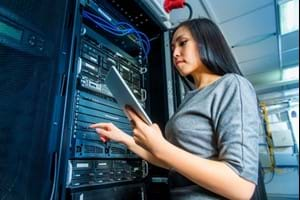 In a series of recent articles here on The Recruitment Company's blog, we've taken a look at the booming Dublin tech scene, and what makes it so attractive to talented IT workers and industry-leading organisations alike. There are no signs of Ireland's IT industry slowing down, and in this article, we'll take a closer look at five factors that could contribute to even more growth.
The expansion of data centres is a great indicator of continued and future growth.
1. Growth of data centres
As the Dublin tech scene continues expanding, software companies hiring in Ireland will need to improve their capacity for various projects. One part of this is securing the right IT and technology employees, but just as important is increased data storage and handling. This is where data centres come in, taking the burden off in-house IT infrastructure and allowing businesses to outsource storage and running costs.
Considering the value of data centres to expanding IT organisations, it's a great indicator of continued and future growth to see how many have been springing up throughout Ireland. Notably, late 2017 saw approval granted for Apple's new 850 million (AU$ 1.3 billion) data centre, which will be based in County Galway.
2. More organisations moving in
We've already looked at some of the international organisations with a presence in Ireland, as well as what attracts tech and IT companies to Dublin. However, this trend of big businesses moving in has continued, and goes even further than industry giants such as Facebook and Google. 
Today, we're seeing everything from large corporations to well-funded startups moving to Ireland, with some of the most notable new arrivals from the last few months including finance giants Barclays and Goldman Sachs. 
3. Brexit
A big part of the reason why so many large businesses are relocating to Dublin is in order to retain access to the European Single Market after Brexit. Of course, the exact terms of the eventual deal between the United Kingdom and EU are still far from certain, but for many businesses, relocating or investing in Dublin provides an opportunity to retain a foot in Europe. 
In a June 2017 interview with The Irish Times, Kieran Donoghue of Ireland's Industrial Development Authority (IDA) explained that more than 80 inquiries had already been fielded from various organisations looking to move in, and this is likely to continue throughout 2018 and beyond. 

4. A young, educated population
In addition to the business and political factors influencing Dublin's continued tech boom, it's also important to consider the local population, and how that will shape the city's future.
According to information from the IDA, Ireland has the youngest workforce in Europe, with one third of the population under the age of 25. This young population is also very well educated, providing a resource for organisations that move to the country to tap into and benefit from. 
5. Strong appeal to overseas talent
Of course, it's not just Irish talent that fills the offices of Dublin's Silicon Docks. The high concentration of world-leading tech companies has transformed the city into one of the most desirable working environments in the world. A big part of this is the strong wages on offer, as companies based in Ireland are able to offer top rates in a competitive market. With Ireland's economy the fastest-growing in Europe, this is set to continue, ensuring Dublin's place as a global hub for years to come. 
For more information on living in Ireland and working in Dublin's tech industry, get in touch with The Recruitment Company today.