Submitted on Wed 16 Aug 2017
We're proud to announce that The Recruitment Company's range of video recruitment tools, The Dashboard Suite, has been awarded an Australian Business Award for Product Innovation.
Our Dashboard Suite consists of 3 products:
The Candidate Dashboard - a tool for presenting a candidate shortlist that combines the power of video, skill testing and good ol'fashioned specialist recruitment.
The Talent Dashboard - a tool for maximising the market coverage of top candidates we are working in partnership with
The Job Dashboard - a video tool for presenting opportunities to the market that is specifically built for the nuances of the client - recruiter - candidate relationship
Geoff Millar, The Recruitment Company's Managing Director said of the award, "We're really proud of this. The Candidate Dashboard won an Innovation Award last year after which we developed the suite further.  Candidates love it, clients love it and we love it. Its just a slightly different slant on several stages of the recruitment process that tend to become a bit stale. We wanted to spruce them up a bit and make them a bit more interactive and fun."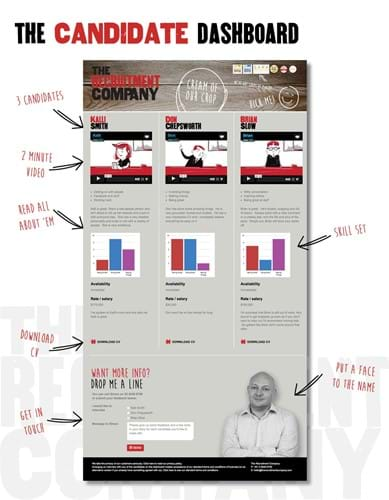 Geoff went on to add, "Feedback from clients is that it saves them a lot of time, it minimises the number of awkward interviews they have to do and ultimately it saves them money. It also means they tend to meet with candidates they might otherwise have missed. Candidates love it because it means they get judged on a more 3D set of criteria other than how well they can write a CV."
"There are some fantastic video recruitment products on the market, but we found that none really leveraged fully the relationship between a client and a specialist recruiter."
"Our recent expansion into the Dublin market was greatly assisted by us having this product suite.  We found that it opened a lot of doors that would have otherwise been closed to us."
The Dashboard Suite can be viewed here where you can download a sample of each dashboard.  
Check out some of our blogs about video recruitment here
The Australian Business Award for Product Innovation closely follows 2 other ABA's awarded to The Recruitment Company: Service Excellence and Employer of Choice.
Geoff finished by saying, "We think video has so much potential for the recruitment industry and we believe that potential is only just being realised.  We'll definitely be developing these products further.  Watch this space."