Submitted on Thu 27 Oct 2022
The last 12 months have been a crazy time for many people, but in particular for the recruitment industry. There have been record highs of vacancies and record lows of applicants.  Not to mention, salaries have shot up, staff churn has increased and pressure has been building within teams.
When the market is confident, companies hire permanent staff.  They want to invest for the long term, they are confident in ongoing work and they look for sustainable and long term team growth. This has led to an unprecedented increase in permanent recruitment.  We estimate that within our core markets this percentage has increased from a baseline of approximately 60% perm/40% contract to approximately 80%/20%.

But the market is constantly shifting, and data shows that that contract is about to make a strong comeback.

A recently launched RCSA Australian Jobs Report found that demand for flexible workers rose by over 11% in the last quarter, whilst demand for permanent staff plateaued for the first time in a long time.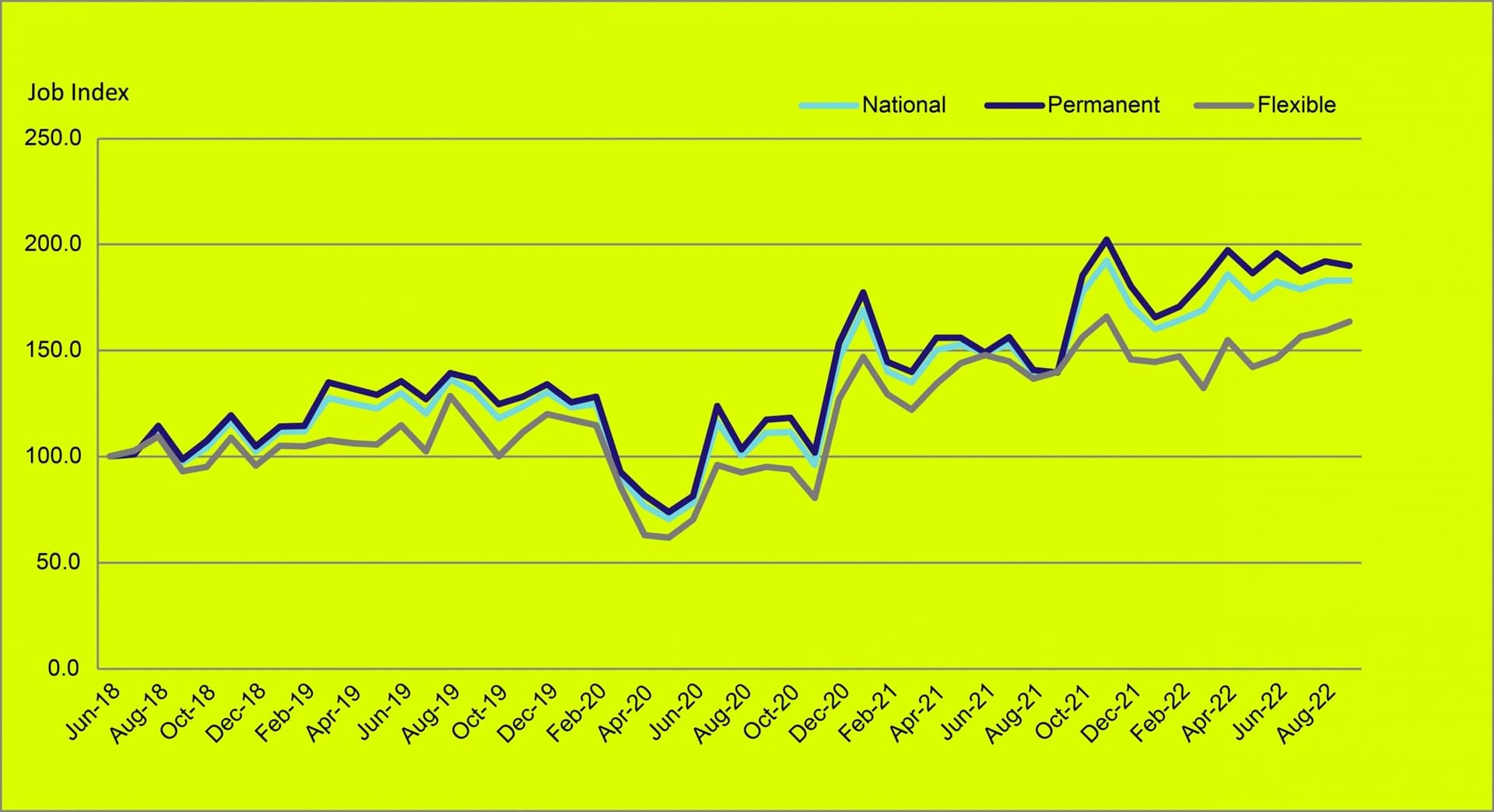 But what is driving this?

Within our core markets (software development, infrastructure, cloud, project services, SAP and data) we have seen a significant rise in the average time to fill for permanent roles. This is due to a number of factors, but is predominantly caused by the lack of quality candidates with niche skills.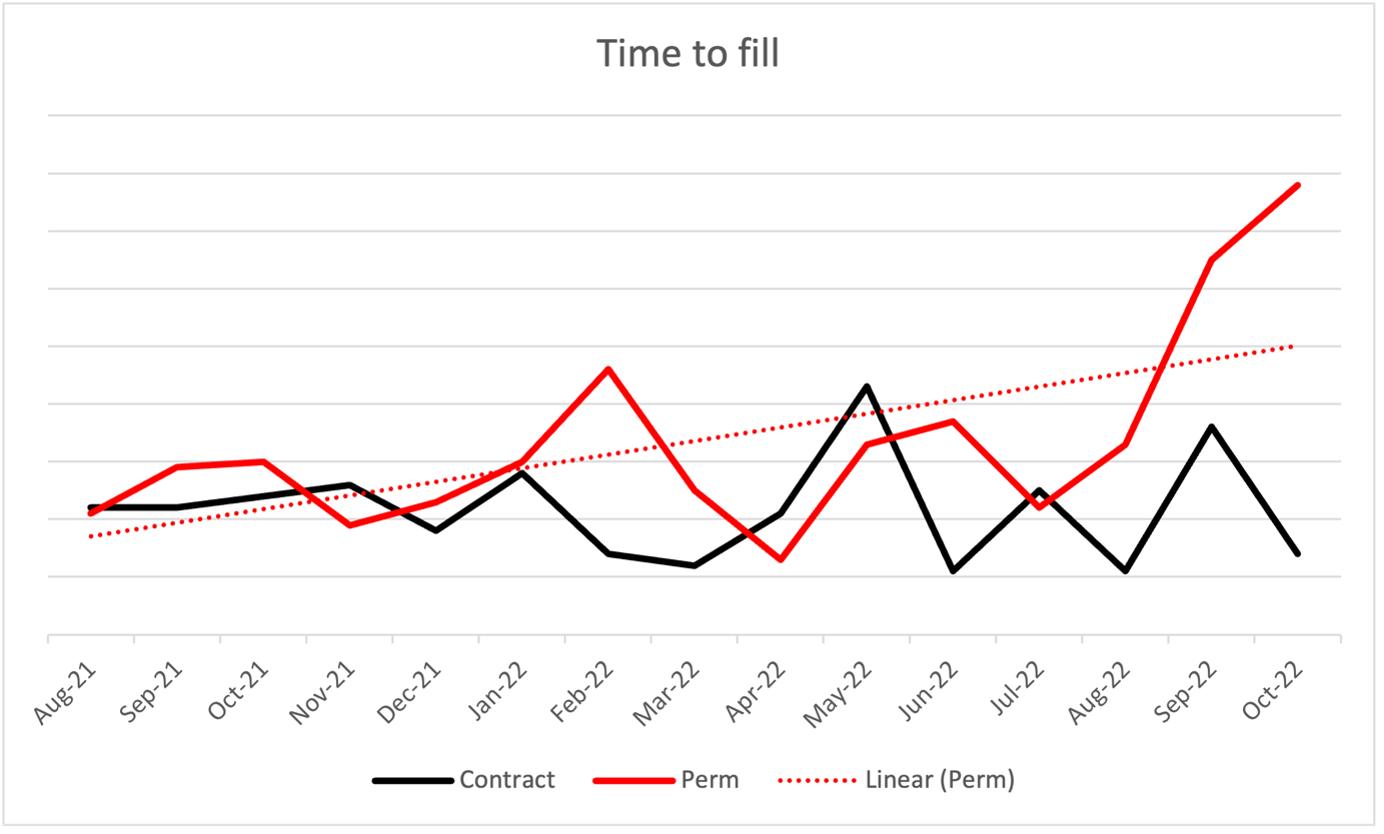 In addition, when talk of 'the great resignation' was at its peak, candidates were being lured by rapidly rising salaries, promises of unrivalled flexibility and promotions beyond their expectations.

But, as the saying goes, 'the grass is not always greener', and 2022 became a year of drop outs, no shows and ghosting. With many candidates pulling the pin on new roles within their probation period (or just not showing up at all).

In our latest release of The Great Big Recruitment Industry Survey we found that 66% of companies had experienced "Ghosting" (the act of suddenly disappearing just before an interview or just before starting a new role and never getting in contact).

Levels of activity had reached such heights that candidates weren't concerned with damage to their reputation and were often just chasing higher salaries.
Let off some steam. Hire a contractor.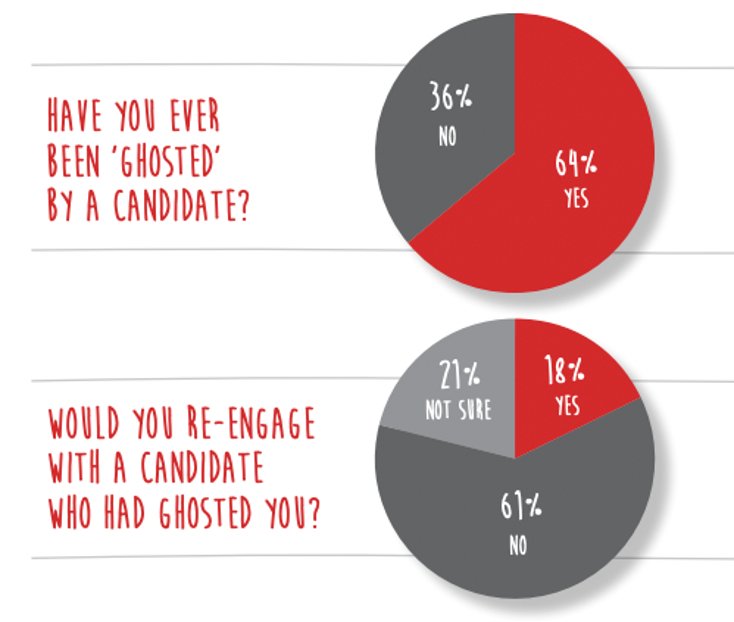 Put all of these factors together;
Increased time to hire
Continuing record high levels of permanent recruitment
Continuing record low availability of permanent candidates
Increased burnout rates amongst Australian workers
Inability to hire being the biggest blocker to business growth
And you have a pressure cooker of stress, missed potential and frustration.
But shifting your focus to contract recruitment can release some of that pressure. 
Picture these individual scenarios for a minute:
Scenario 1
You are looking for a developer. You are holding out for someone who is a cultural fit, has amazing and rare skills. You won't compromise on these 2 points (and nor should you) and recruitment is taking up your time and you can see no end in sight.  Meanwhile you are working long hours, deadlines are slipping and you are nervous that up to 3 of your team may be looking at other roles due to burnout. 
Solution
Hire a contractor. Put them on a 3 or 6 month contract. Get the backlog of work cleared, keep your team and take your time to hire the right person. 


Scenario 2
You've hired 3 people into your Scrum Master role. You ideally want a perm employee as you want someone who will be around for a long time and will improve the overall culture of the business. Salaries are blowing out way beyond your original budget and your candidates keep leaving for more money within 6 months of joining. You seem to be in a perpetual cycle of onboarding and waiting for people to be up to speed.
Solution
Hire a contractor. Put them on a 12 or 24 month contract. Chances are, if they are a professional contractor, they will be up to speed quicker and will stay for the entire duration. On face value they may be more expensive but when you factor in ramp up time, recruitment fees, payroll tax, insurance, risk etc, the cost is probably comparable to your permanent solution.  And with 12 – 24 months commitment, you will have stability.


Scenario 3
It's coming into the end of the year. A few of your DevOps team are going away for leave over the next few months. They haven't seen families for a few years so are going for 4+ weeks. You are nervous that this will put extra pressure on the remaining team who are already stretched a bit thin. You're scared it may drive them to leave in the new year. You are lucky enough to have a full perm headcount but the thought of falling back into a hiring cycle fills you with dread. You also don't want to start the new year with a huge backlog of extra work due to a reduced team
Solution
Hire a contractor. It's a great opportunity to bring in some fresh ideas, new skills and to clear your backlog. Maybe its budget you have to fight to get but its budget you would be using if someone in your team leaves or if work doesn't get done. Put someone on a 1 - 3 month contract to see you through to the new year.


Scenario 4
Your company has a loooooooong recruitment process. They insist on 4 interview stages and every hire needs a long approval process involving many decision makers once the process is done. You keep finding people, only to lose them to more agile competitors.
Solution
(Yep you guessed it), hire a contractor. Get your budget approved and then you are the decision maker. The contractor doesn't fall under perm headcount so doesn't need to be hired via the same process. You can now reap the rewards of being able to move fast and make your own decisions. Finally you can compete with competitors and get the best talent for your team. You can always keep the perm recruitment happening in the background. Just in case.

We are seeing an increase in employers within the IT space move away from their dated, one pronged approach to team growth and embrace contract recruitment as a magic bullet to many of their woes.
Traditionally, contracting was seen as an expensive and temporary option, but in fact it is rapidly emerging as just the opposite.
With salaries increasing far faster than contracting rates, they are now almost on par. And contractors traditionally need less ramp up time, carry much less risk and usually get started much quicker, all of which significantly reduces their cost.
The last year has shown how unreliable permanent recruitment can be with many managers being burnt by ghosting, no shows, drop-outs and employees chasing higher salaries every few months. Contractors, on the other hand, tend to commit for an entire contract period. They are contracted for a set period of time, and career contractors know that they live on the value of their reputation. Contractors can't afford to jump ship mid contract.
Employers who don't want to compromise on their desire to hire the perfect candidate with incredibly niche skills are also turning to contractors as a stop-gap solution. If you are facing a potential 3 month+ process to hire your unicorn candidate then why not hire in someone to get the work started for 3 months. It could save you losing other team members in the meantime and, you never know your luck, you may be able to talk your contractor into eventually taking on a perm gig.
But the best place to secure a professional contractor quickly is by talking to a specialist contract recruiter (like us – yes, we know shameless plug on our behalf). If you speak to a contract recruiter specialising in the skill set you are looking for then they will have people ready to go (or at the very least will know where to find them). Ideally you want someone who the recruiter has worked with before and can recommend. If you want to get the best out of utilising contractors then use a specialist contract recruiter.
So contract recruitment now presents your best option for finding high quality team members, for having a stable long term team, for getting your work done within budget and ultimately for releasing some of the pressure caused by the current skill shortage facing us all.
RCSA data shows that many organisations are realising the benefits of looking at alternative approaches to talent acquisition. Make sure you don't miss the boat!


If you are looking to engage a recruitment agency to help hire amazing people for your awesome company and you'd like to start with a chat, then call us today on (02) 8346 6700 and speak to one of our recruiters or send us an email to [email protected]
The Recruitment Company – Making people enjoy the recruitment experience again
Specialist Sydney Employment Agency within Information Technology, Project Services, IT Infrastructure, Software Development, SAP, Data and Analytics, Devops, Cloud and the Public Sector.