TRC awarded ABA
Employer of Choice 2014 Award
Wednesday July 30, 2014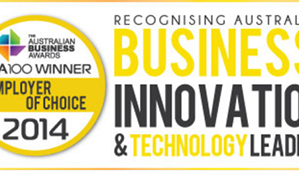 TRC Group has been recognised as an ABA100 Winner for Employer of Choice in The Australia Business Awards 2014.
TRC Group's Managing Director Simon Moss said of the award "this is a major achievement for us.  We've working hard to create a company unlike any other in our industry and this award lets us know we're on the right track."
The Australian Business Awards are a national, all-encompassing awards program honouring Australia's most innovative businesses.  In their ninth year, the awards honour 100 organisations (ABA100) who have excelled within a number of categories.  TRC Group is a winner within the Employer of Choice category.
Moss added "2013 was a tough year for us, as it was for a lot of recruitment companies, but we kept our focus on building a great company culture and on looking after our team and we came into 2014 leaner but stronger.  Winning this award is the result of keeping a real focus on building a winning culture within the company and of being completely transparent with the team through good times and bad"
This is the third time TRC Group has been recognised as an ABA100.  The last time was in 2013 within the Service Excellence category and prior to that 2012 in the Employer of Choice category.  It also follows TRC Group's place as the 12th best place to work in the BRW Best Place to Work Awards last year (the highest placed recruitment company) and 10th Best Place to Work the year before.
Sarah Banek, TRC Group's Talent and Training Manager and architect of TRC Group's award winning culture, said "we've implemented an industry leading benefits package, rolled out a compelling vision for the company, re-vamped our commission structure and included the entire team in developing and implementing company wide initiatives.  But most importantly we've hired an amazing team, set them high standards and given them the tools to live up to them."