'Appy new year: How can developers get ahead in 2016?
Friday December 18, 2015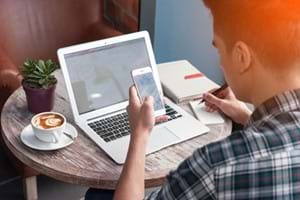 Application development is no doubt one of the most fast-paced and exciting areas of the technology sphere. 
How can professionals engaging with technology recruitment best prepare themselves for the coming year? 
Moving to new devices
Australians can't get enough of their smart phones. According to Deloitte's 2015 Mobile Consumer Survey, we check our phones an average of 30 times per day. For 52 per cent of participants, this device is in our hands within the first 15 minutes of the day. 
The number of applications for wearable devices are expected to grow to 349,000 by 2019.
However, this isn't the only technology that is showing strong potential for application development. According to IDC's analysis, the number of smartwatch and other wearable device applications are expected to grow from just 2,500 in 2014 to a whopping 349,000 by 2019. Consumers and companies alike are expected to become more open to these cutting-edge devices.
Research Vice President John Jackson had some stellar advice for professionals looking to develop applications for the future. 
"To succeed in what we expect will quickly become a very crowded category, consumer-oriented app developers need to focus on intelligent service delivery and 'always on you' experiences that leverage the human factor improvements that smart wearable devices offer," he said.
Addressing cybersecurity
Of course, moving into new devices and platforms comes with a different set of challenges. As a recently highlighted by KPMG, security in the IoT is becoming a major concern for businesses around the world.
Although 92 per cent of global companies stated they had worries regarding their IoT platforms, 44 per cent are neglecting the risk of third-party attacks and breaches. 
KPMG's Global Chair of Technology, Media and Telecommunications Gary Matuszak explained that everyone within the business needs to take action against breaches and cyberattacks.
"We believe that the technology sector must come together with other vertical and horizontal players in the IoT ecosystem to create a unified approach to security and standards that everyone can live by, and grow with," he stated. 
Security isn't the only area that is capturing interest among companies. Here is one of our blogs outlining the shifting trends in the world of business.
As we prepare bid adieu to 2015, getting yourself in shape for these trends will help secure the exciting opportunities around the country. 
by Mitch Wade