Let's get digital: Embracing transformation in 2016
Tuesday January 12, 2016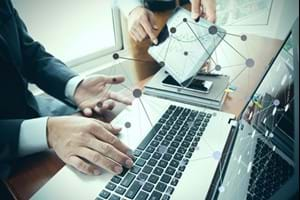 As we move into the new year, the importance of digitalisation is holding more weight than ever for businesses in Australia.
In order to avoid being left behind, it is important to ensure you have the right skills and know-how to embark on new projects, possibly aided with technology recruitment efforts.
What is in store for 2016?
The National Innovation and Science Agenda created a massive wave across a variety of industries and the technology sector was no exception. Many organisations had a lot to say about the new measures, including Internet Australia.
Technology hubs and strong collaboration are key to spurring agility and innovation.
CEO Laurie Patton stated some of the key actions that the country need to take to consider in order to capture opportunities.  
"Australia has the potential to lead the world into the digitally enabled global economy of the future but we need a bipartisan strategic approach if we are to become a serious player," she stated. 
Ms Patton went on to explain the importance of technology hubs and strong collaboration across industries to spur a culture of agility and innovation. 
New centre combines tech and creativity 
Creative agency Imagination has created an exciting innovation lab, the first of a global series to be opened in Australia as reported in a December 18 CMO article.
The purpose of the centre was to introduce advanced digital technology to marketing professionals and brand managers. Embracing emerging innovations are becoming a key priority for all departments, with augmented reality, touchscreen surfaces and data-driven apps all the more common. Technology interacts with many other sectors in Australia and these partnerships are key for the overall prosperity of the country.
Public sector opens its arms to digital 
In the past year, this sector has made a greater strides to adapt to technology, as we explained in an earlier video blog below. 
According to KPMG's Digitising Government Service Delivery Week report, 80 per cent of public sector seniors feel that digitisation is a clear need for their organisation. However, only 36 per cent had a clear goal in mind and just 37 per cent had compiled a list of potential projects for their organisation to tackle. 
To help spur these changes, KPMG had some helpful suggestions for organisations in this realm. These included getting a strong grasp of the planning basics for digital projects, creating more connections between silos and empowering all members of an agency through a cultural change.