Acing the interview - Tip #2: Prepare questions! [Video]
Friday February 26, 2016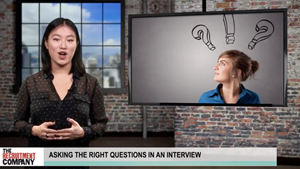 In the second video of our 10 part series, Acing the Interview, we look at how to ask the right questions. For more recruitment advice, keep an eye out for other great tips on our blog or subscribe to our Youtube channel
---
As we've covered in previous blogs, being prepared for a job interview, both with a recruitment agency and with the end client, is a critical part of securing the role. Although a candidate will mostly be on the receiving end of questions, there will also be a chance to ask your own.
This is not only a good opportunity to find out more about the role, it is a fantastic way to show your enthusiasm and sincere interest in the company. Inquiring about the strategy, your future teammates and new products or services are all good areas to focus on. Of course, this may require some research into the company so you can start thinking these up ahead of time.
Having your insightful questions ready is all well and good, but it is important that you have them written down. In a high-pressure situation, all your queries may not come to mind in time. With your questions on paper, you can also ensure you are asking them with the correct tone, with no room for misinterpretation.