Using Performance Management
For Good not Evil
Monday May 5, 2014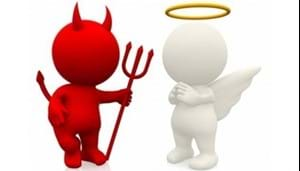 Performance Management within any working environment can be a fickle beast, and I have found recruitment to be no exception. At the end of the day perception is reality. And lets face it,  rarely is any form of  intervention from management met with outward vigor and enthusiasm.  Whichever industry you find yourself in, the stigma surrounding performance management is fairly universal; improve your performance or you're out. And while sometimes that is the harsh reality, performance management is also very much about effecting positive change.
So what factors make performance management successful? And how does one go about implementing and executing  a sound performance management framework to improve engagement, increase productivity and better results, whilst also overcoming perceived negativity?
1. Keep it simple, make it absolute
The purpose of having a sound performance management system, is to have in place a well structured, well documented process that;
enables employees to develop themselves professionally
supports struggling, underperforming employees to help them get back on track
develops employees who are performing exceptionally well and looking to take the next step
supports the leadership team, in raising the bar on performance and backing up difficult decisions
In order for managers and employees to get behind and trust the system, it must be simple to understand, easy to implement, and to integrate into daily working practices with minimal disruption.
It must also be absolute. No exceptions. What this does, is it creates an even playing field, that demands accountability. Everyone within the business knows the consequences of missing target, underperforming on activity metrics or agreed outcomes. Similarly, everyone knows what they need to do in order to progress.
2. Keep it relevant  
The beauty of  a well structured performance management system, is that it is time relevant. It is an avenue to be able to step in an assist employees when they need it, and to comfortably leave them to it when they don't.  It is about catching employees on the bell curve before they peak or trough,  with the aim of raising the bar and cultivating an environment of trust.
To keep it relevant, the performance management outcomes need to be tailored to the individual, in identifying  'lever points' – what you can tweak, or change to have the most impact in the shortest amount of time – to bring about the desired outcomes.
3. Change the name
The label of 'performance management' automatically conjures up a negative connotation. If one of your aims is to change perception, change the name. The performance management process essentially involves close analysis, support, coaching, mentoring, setting expectation and instigating change. Choose a name that best reflects your process and what you are looking to achieve. Strategic Coaching works for our business, what works for yours?
4. Be transparent. Be specific.
 I have found that in working with individuals through the performance management process, that transparency is key. Transparency in why they have entered the system, what it means to be there, what the expectations and stipulations of the program are, and for what length of time.
Be specific about the goals and expectations. Tie then into the right motivations, and make them meaningful. The aim here is changing behavior to effect long term change, and the right core motivations are essential to your success.
5. Always follow through and let the results speak for themselves.
What I've learnt  is that it doesn't help 'putting a positive spin on things' because that's exactly what it ends up being. A spin. Getting results and celebrating the wins is your biggest advocate.  Those that have the determination, tenacity and the drive to make it work will thrive. Those that don't will go. And its probably for the best.
Regardless of your role in the performance management process, following through on what you say you will do is critical to your success. If you consistently follow through, people will come to know that about you, it will hold accountability and set the standard to which others will adhere to.
So in summary, in order to successfully implement a sound performance management system, you need to keep it simple, and make it absolute. Ensure you keep It relevant to the individual, be honest and transparent in how you role it out, and what you expect. Build credibility, set the standard by always following through, and let the results speak for themselves.
I have found that if you always have the best interests of your people at heart, underpinned by good systems and frameworks, that you will prevail in successfully supporting a happy and healthy workforce.
What have been your experiences in implementing and running performance management processes? What successes have you experienced and challenges have you faced? I'd love to hear from you on what you consider to be your success factors.