Acing the interview - Tip #6: Arriving on time [Video]
Tuesday March 8, 2016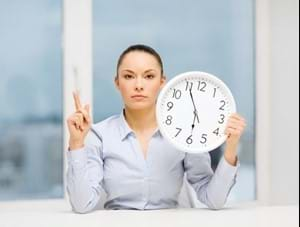 In the sixth video of our 10 part series, Acing the Interview, we talk about arriving on time to prove that you are punctual and reliable. For more recruitment advice, keep an eye out for other great tips on our blog!
---
One of the key traits companies look for is reliability, and as a candidate, your interview is the best way to demonstrate this. Tardiness and rushing in late can leave a bad impression so you need to ensure you leave plenty of time to make a punctual entrance.
As a rule of thumb, you should always aim to arrive at the premises of your interview 10 minutes early. This will give you plenty of leeway for traffic issues or navigating an unfamiliar part of town. You'll be feeling nervous enough without the added stress of rushing around town.
However, if you do arrive with time to spare, you shouldn't necessarily head straight up to the interview. Wait outside the building and use this opportunity to run through your notes and any preparation material. Once you reach three minutes before your designated time, enter the doors and you'll be prepared to make the best impression possible.