A close look at women in project management
Thursday March 3, 2016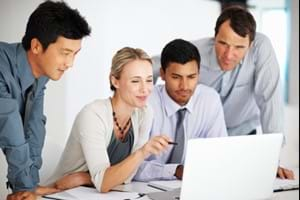 When it comes time to help your business evolve and grow, developing smart ideas and following them through to completion can be a highly challenging endeavour. Often an entire team of people will need to be dedicated to a project, each with their own part to play in the process. At the top of the ladder, however, should be the right person in the project management position.
According to the Project Management Institute, by 2020 there will be over 375,000 project management roles in Australia. With the approach of International Women's Day on March 8th, perhaps it's time for your organisation to take a more equal approach to project services recruitment, and bring some more women into important positions.
The case for women in project management
As much as modern societies are trying to promote equality between the genders, there is evidence that favours women over men in the case of successful project management. A recent column in CIO from Ronald Bisaccia states that studies have proven women to not only be better at judging risks, but also adapting their actions to address or avoid those risks.
Mr Bisaccia goes on to note that research has also proven that female project managers perform better when it comes to meeting budgets and schedules, however at most only 30 per cent of roles are actually filled by women. Mr Bisaccia speculates that it's an excess of bravado that leads men not only to the top of project roles, but also to a greater rate of failure.
Finding a conscientious, level-headed project manager is a perfect place to start.
Is greater caution the right model?
Whatever the cause of project failure, a greater capacity for identifying and minimising risks can only be a benefit when it comes to project management. Gartner's 2015 CIO Agenda Special Report found that female CIOs were expecting 2.4 per cent increases in IT budgets across last year, while male counterparts only predicted 0.8 per cent.
The reasons for such a discrepancy aren't particularly clear, however Gartner fellow Tina Nunno suggests that it may come down to a risk and resourcing issue.
"Further survey data indicates that female CIOs are more concerned about underinvestment in risk initiatives than male CIOs [and] are more focused on the resource side of the digital equation than their male peers," she says.
Whatever your project, finding a conscientious, level-headed manager is a perfect place to start. If you are looking to bring more talented women into your organisation, speak to an effective recruitment agency in Sydney today.