How do changes to Australian visa laws impact recruiters moving to Australia?
Wednesday November 9, 2016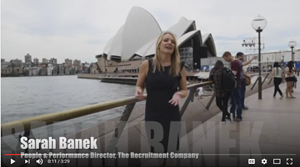 In this video blog The Recruitment Company's own Sarah Banek talks through changes to Australia's working holiday visa (417) and how this will impact recruiters looking to move their recruitment career to Australia. (spoiler alert: its good news).
If you are a recruiter thinking about moving your recruitment career to Sydney why not head over here to check out our current vacancies - https://lnkd.in/bAfVdrb -
Or here to find out a bit more about why you might want to work at The Recruitment Company - https://lnkd.in/euQv-FJ
Drop Sarah a line to find out more [email protected]
or follow us on Linkedin to see the rest of this video blog series https://lnkd.in/bYJE-cJ