Tales of Untethered
Part 4: The New dad
Wednesday November 16, 2016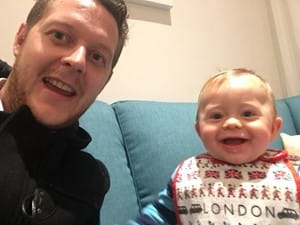 Needless to say, 2016 has felt like a pretty seismic year for a lot of reasons. We have seen major shifts in the political world with recent election and referendum results and we have lost numerous talented artists from the world of film and music. Personally, these all pale into insignificance compared to the seismic shift in my own circumstances due to the birth of my son, Oliver. Professionally, 2016 also saw me make the step up from consultant to team leader at The Recruitment Company and this also brought with it a number of fresh and exciting challenges. All in all, it's safe to say there has been a fair amount of change for me in 2016.
All of this has also been mixed in with the change to an Untethered way of working at The Recruitment Company and this blog is about the benefits, challenges and dirty nappies that I have had to experience this year as a new Dad.
I never quite appreciated just how much time I used to have before Oliver came along. Plans could change at a moment's notice and a casual beer after work was never a problem. I am now in a position where my calendar is locked in for the next 3 months and the window of opportunity for 'rest' time is now around about 3 ½ minutes. If I'm lucky. Previously, my day would have started at around 7:00am, now it is 4:00am.
That is where the untethered model has been a major benefit to me. I can now utilize time that previously would have not been used efficiently. I am able to utilise those pre-dawn hours and my day now see's me arrive in the office at 7:00am with a potential to leave work a lot earlier with the opportunity to spend some quality time with my son. With traditional work arrangements (or at least the hours I used to work), time with Oliver would have been limited purely to weekends and calming him down in the middle of the night when he wakes up. And we all know that is not fun time.
The untethered model has also given me the opportunity to support my wife. It does not matter how many hours I put in at work or how many stressful situations that I need to deal with, it does not even come close to being as difficult as the 24 hour role that she is performing as a new Mum. Being able to work from home once a week and giving her a break for a few hours in the afternoon or getting home early to take him for a walk has been incredibly important in keeping sanity during these 12 months. As wonderful as he is, sometimes you just need a breather.
You also need to be prepared for the odd fail as well though and it's not all been smooth sailing. There are numerous unpredictable moments that you have to deal with as a new parent and the ability to multi-task is imperative at times. I never thought I would find myself on a video conference with my MD, holding my phone in one hand and my son in the shower with the other hand, after a particularly gruesome soiling incident but there we go….I've even surprised myself this year.  
2016 has been a year of changes but The Recruitment Company's move to 'Untethered' working has helped me face these changes and enjoy them. As a great man we lost this year once said, "Time may change me, but you can't trace time."