3 recruitment innovations to embrace in 2018
Wednesday January 31, 2018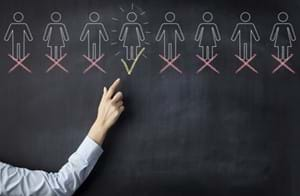 There's no doubting the competitiveness of the Australian recruitment industry, particularly in fields like construction, IT and finance where there's a shortage of skilled workers available to take on new roles. This can make it difficult for businesses to secure top talent, unless they have the right support to cut through the competition and stand out as providers of the very best opportunities. 
Innovative recruitment technology and techniques allow recruiters to help businesses position their vacancies at the top of the pile. In this article, we'll explore three of the most important new tools and approaches to embrace in 2018. 
There are all sorts of different ways that video can be used during the recruitment process.
1. Video recruitment
While video recruitment technologies have been around for a few years at this stage, we are now getting to a point where they are less of a luxury and more of a necessity. There are all sorts of different ways video can be used during the recruitment process, but some of the most common are to conduct interviews remotely, or to improve candidate resumes - as in The Recruitment Company's Candidate Dashboard.
Regardless of how your business chooses to use video, the benefits can be significant. From saving money on travel costs to viewing a much broader range of candidates than would otherwise be possible, introducing video into the recruitment process makes it possible to find the best candidates, and quickly get a sense for whether or not they will be a good fit for your business. 
2. Candidate management
One area that we expect to see a renewed focus on in 2018 is the application experience, with too many candidates finding the recruitment process impersonal and disappointing. This isn't just a problem for candidates, it can have a severe effect on a business' reputation, ultimately making it harder to secure talented staff.
Part of the problem here is technology itself, with many businesses utilising automation to make the hiring process more efficient. Automated responses can indeed save time, but the candidate experience almost always suffers in one way or another. As impressive as new technologies may be, there's still no replacement for the human touch, especially when dealing with candidates who have been unsuccessful. 
A better option is to work closely with a dedicated recruitment agency that specialises in your particular field and can dedicate themselves to your needs, as well as those of potential candidates. Experienced recruiters know the value of communication, good personal relationships and the candidate experience, and can apply those traits when filling a vacancy. 
The Job Dashboard helps your vacancy leap off the screen and grab the attention of the very best candidates.
3. Job presentation
Finally, there's the way you present your job opportunities. In days gone by, a few simple paragraphs may have been enough to get the job done, but times have changed. Today, it's more important than ever to stand out from the pack, particularly if you're hoping to attract talented candidates in an industry with a shortage of skilled workers.  
That's why we at The Recruitment Company came up with the Job Dashboard, a platform that presents you, your business and your vacancy in a fresh, unique way. Using graphs, video and clear descriptions of the key requirements, the Job Dashboard helps your vacancy leap off the screen and grab the attention of the very best candidates. 
To find out more about our Job Dashboard, or for a chat about how you can up your recruitment game in 2018, get in touch with The Recruitment Company team today.