What IT jobs are most in demand in Dublin?
Monday July 30, 2018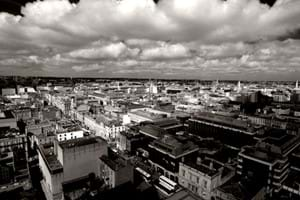 The IT and technology market in Dublin is growing with every passing month, making it more important than ever for candidates and businesses to work with a recruitment agency that specialises in this niche sector and understands what skills are most valuable. The benefits of taking this sort of approach are many and varied, but perhaps the most important is the ability to find talented employees in areas where there's a skills shortage.
This relies on understanding what sort of positions are highest in demand, and that's exactly what we'll be looking at in this article!
Haven't heard enough about GDPR? The Recruitment Company may only be 1 year old in the Dublin market but we know GDPR will shake things up. In this article Chris Pelow talks about GDPR and what it means for the Dublin IT Recruitment sector. https://t.co/VMWC9Hj6Iw pic.twitter.com/zswP7XLicU

— TRC (@TRCWorld) 22 June 2018
IT skills in demand in Dublin
Perhaps the most important influence on Dublin's IT and technology market is diversification. More than ever, we're seeing incredible competition amongst businesses looking to fill niche positions where there's high demand but not a lot of talent. Knowing which of these areas are most competitive is critical in understanding the right approach to take in order to secure top candidates.
In 2018 and the near future, expect the following positions to be most in-demand, and therefore the hardest to recruit for:
Software engineers (with Java specialisation)
Software engineers (with C# and C++ specialisation)
Software engineers (with Python specialisation)
Data engineer
Machine learning and AI engineers
Big data engineers
Big data developers
In order to give your organisation the best chance of securing talent in these areas, it's vital to work with a recruitment agency that understands niche specialisations.
In order to give your organisation the best chance of securing talent in these areas, it's vital to work with a recruitment agency that doesn't just understand these specialisation, but possesses the right network to quickly identify top candidates before they're snapped up.
Dublin industries with high employee demand
In addition to understanding the core skills that are most desirable in Dublin-based IT and technology employees, it's also vital for candidates and the recruitment agencies that assist them to know which industries require staff in these areas. This information makes it much easier to work out what sorts of jobs are best suited to a particular candidate's skill set and experience level.
In Dublin, areas with growing demand for IT professionals include healthcare, communications, finance, science and engineering. This is in addition to the technology industry itself, which has long been a core part of Ireland's economy thanks to the presence of some of the world's biggest organisations, including the likes of Google and Facebook.
Regardless of whether you're a candidate or a business leader in Dublin, it's vital to understand the unique challenges of the city's IT and technology recruitment market. That's where we come in, and you can get in touch today to find out more.