How has the GDPR affected job candidates in Dublin?
Wednesday June 27, 2018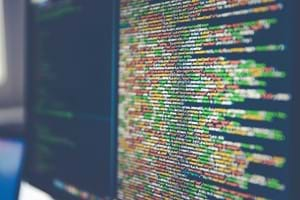 In a recent article here on The Recruitment Company blog, we talked about Europe's new General Data Protection Regulation (GDPR), and what this means for the world of recruitment. Now, we're going to be digging a little bit deeper into the topic, and exploring the impacts that GDPR has had and will continue to have on job candidates in Dublin's IT and technology sectors. 
Specifically, we'll be looking at the problems GDPR aims to address, and a few aspects of the new regulation that candidates should keep in mind. 
GDPR provides data protection for job candidates in the form of stricter rules around how data is gathered.
What does GDPR mean for recruitment? 
In the past, one of the issues with recruitment in Dublin has been the enormous amount of candidate data harvested by recruiters and associated websites such as job boards. This has been part of a 'quantity over quality' approach where recruiters have compiled vast databases of potential candidates in order to send out lists of vacancies and acquire business.
While there's nothing implicitly wrong with this approach, it does present data security problems, with candidates unsure of who has their personal information and how it is being used. GDPR solves this issue by providing data protection for job candidates in the form of stricter rules around how data is gathered. Now, organisations need to make it very clear to candidates how their information will be used, including where it will be stored, and for how long. 
GDPR and recruitment agencies
Data security is an obvious concern for all of us, but what about the rest of the recruitment process? One unexpected benefit of GDPR is that it reframes that way recruitment agencies and other organisations are able to approach candidates. Previously, recruiters have been able to operate without taking the specific needs of each candidate into account, instead operating an 'arm's length' model where the bare minimum of effort is put into acquiring candidates. Thanks to GDPR, this approach can no longer be relied upon, forcing recruiters to be more active when seeking out possible fits for a specific vacancy. 
Finally, GDPR gives candidates more power when it comes to managing who is able to contact them regarding recruitment. This is via 'subject access requests,' which give candidates the right to both opt out of continued contact and to ask questions such as: "who has access to my data," "for what purposes is my data being processed," and "how was my data acquired." 
For all of these reasons, there's no denying that GDPR is beneficial to job candidates in Dublin's tech scene, and should play a significant role in improving the recruitment process for everybody. For more information, contact The Recruitment Company today.