What are the latest trends in DevOps for 2018?
Friday May 11, 2018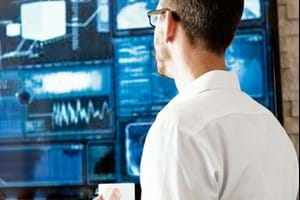 More and more businesses are embracing the various practices and tools that make up DevOps, and it's easy to see why. The efficiency, speed and reliability of DevOps is essential for modern enterprises, driving performance and making it possible to keep up with the huge consumer demand for better software and technology solutions. 
The challenge, however, is knowing which DevOps market trends will emerge and dominate 2018, and how businesses can stay ahead of the curve. After all, there's a well-known DevOps talent shortage in Australia, and understanding the key developments within the field can provide an invaluable edge when it comes to knowing how, and who, is the best IT professional to recruit. 
So, what are the latest trends in DevOps?
Understanding the key developments within DevOps can provide an invaluable edge.
1. Integration with IoT
Increasingly, data is being transferred between everyday objects via the Internet of Things (IoT). For DevOps teams within companies that create IoT devices, this means utilising best practice to ensure the constant improvement of products.
A great example of this is Tesla's IoT connectivity in its vehicles. This allows DevOps teams to deliver software updates wirelessly, and remotely fix problems that would previously have required complex and expensive product recalls. While vehicles are an extreme example, the trend of utilising IoT data as part of the DevOps process is becoming not just more efficient, but essential, and will continue to grow in popularity throughout 2018 and beyond.
Feb 9, 2018 at 12:51pm PST
2. Constant monitoring will replace testing
Another core development in recent years that is set to dominate DevOps' in 2018 is the rise of constant monitoring. Given the current scale of IT assets, it simply isn't possible or cost-efficient to test all the possible scenarios that may emerge after a product's launch. In addition, testing is only able to identify problems specific to those tests, making it almost impossible to guarantee that every eventuality has been considered.
By contrast, constant monitoring identifies problems as they arise, providing DevOps teams with the real-time data they need to constantly improve their products. 
3. The emergence of new tools
A final DevOps trend to be aware of is the emergence of new tools, and the value of the skills associated with making the best use of these. Many of these tools are becoming essential as a response to the increasing popularity of cloud networks within businesses. 
Knowing the value of these tools and having staff who understand them is critical to success.
One example of a tool - and an associated skill set - that is becoming more and more important is cluster computing. In essence, this is two or more computers joined over a network, which creates a single computer with much more power. For DevOps, the benefits of this are substantial, giving faster processing times, increased data capacity and improved storage. However, small differences between the operating environments within a cluster can cause problems, which is why container tools such as Kubernetes are so valuable. Understanding the value of these tools and having staff who know how to use them is critical to success. 
For businesses, it's not enough to have a finger on the pulse of DevOps developments. It's also vital to actively pursue the best employees in this space, and make sure you are able to attract them to your organisation. With more DevOps jobs in Australia than there are experienced professionals, innovative recruitment is crucial.
That's where the team here at The Recruitment Company can help. Get in touch with us today to find out more.