Major bridging project aimed at productivity
Sunday March 15, 2015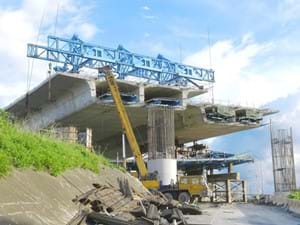 Freight is easily one of the most important parts of the Australian economy so it makes sense that the federal government has announced a widespread project to improve the quality of the country's bridges.
In every state, the government has agreed to fund the upgrade of a number of locations including 29 in NSW.
Totalling $25.8 million in federal funding out the new $300 million Bridges Renewal Programme, there were 100 proposals by local councils and stakeholders in NSW.
What are the benefits of the programme?
In order to create safer, more reliable road access for road freight and traffic movement, many one-lane timber bridges will be turned into two-lane concrete ones.
New South Wales Minister for Roads and Freight Duncan Gay explained that the councils will be funded for the approved projects and will then be able to contract out the work. This means there could be many construction and engineering opportunities created as a result of this programme.
"The value of these upgrades in small communities is directly reflected by the quality of proposals received from local councils, with 28 of the 29 NSW successful projects being from councils across the state," Mr Gay said in a February statement.
"One example is the Harpary Bridge near Narrabri, which on completion will improve access to the Maules Creek Coal Mine and the nearby agricultural area, ultimately contributing to NSW and the national economy."
As much of Australia's infrastructure ages, there is the possibility that further projects of this kind will come to light. Already this year, the federal government has announced plans to fix country roads - another way of boosting the country's economy.
For construction and engineering professionals, the key will be connecting with a dedicated recruitment provider who can find a role suited to your skills and past experience. Contact TRC Group today if you have any further questions.