3 common sense tips for a productive job interview
Friday September 25, 2015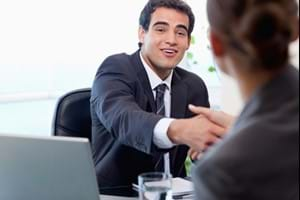 Regardless of whether you've been out of the workforce for a long time or are looking for your first job, the prospect of a job interview can be nerve-wracking.
Of course, you want to present yourself in the best light, but this can easily be overdone and you'll end up doing more harm than good. With this in mind, it pays to know a few tips about getting ready for a job interview and ensuring you have the best chance to receive a contract offer.
1) Memorise every item on your resume
In the heat of a job interview, a recruiter could ask about almost any item on your CV. Skills, job history and qualifications are all a possibility, nothing is off the table.
As such we suggest studying your CV and knowing every facet inside and out. You don't want to be caught on the hop not having further information to add about a certain job or skill as this can make you appear unprofessional.
2) Research the company
Learning more about the business that is offering you a job interview can set you apart from the other candidates. Intelligent questions about company culture, market success or even recent projects will highlight your commitment to the role.
We would note note that these questions need to be genuine and appropriate though. This means you have to be engaged with the process and ask questions that you actually want answered.
3) Dress for the occasion
Based on findings from Adecco, as cited by Forbes, 75 per cent of hiring managers believe the top interview mistake millennials make is wearing the wrong clothes.
There is no doubt that choosing attire for an interview is tough so if in doubt ask your agent. A guide is to be slightly smarter than the norms of the company you are interviewing with.  
For more assistance about preparing for a job interview, contact our expert team today.