Why should your business embrace personal devices?
Monday April 4, 2016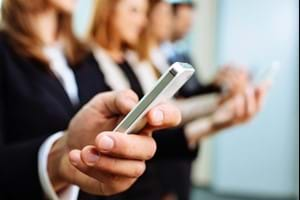 Like it or not, today's employees are constantly connected to their digital technology, even while at work. Many employers have harboured an overarching fear that the use of devices like smartphones and tablets on the job would result in tasks being disrupted and security being compromised.
However, studies are showing that there are multiple benefits available to businesses that embrace personal devices in the workplace, having a positive impact on everything from digital IT recruitment to general productivity.
Mobile devices can be a great tool to reach more candidates.
Hire talent from their smartphones
The positive results created by digital devices can begin to take effect before employees are even brought into the office.
A 2014 survey conducted by Jobvite shows that there is significant potential for using mobile platforms to recruit new talent. A 19 per cent majority of respondents claimed that the biggest benefit of mobile recruiting is reaching a larger pool of candidates, followed by time-effectiveness, which was reported by 14 per cent of employers, and better quality candidates at 13 per cent.
Expanding your recruitment approach to include mobile tech can enable you to tap into these potential perk, and may help to make the process more efficient.
Use devices to keep employees happy
Allowing employees to bring their own devices to work can also help to make them more content on the job.
A 2013 report by Deloitte Access Economics discovered a link between the use of personal devices and employee satisfaction. About 80 per cent of employees who were allowed to use their personal devices claimed to feel satisfied with their job. It gives workers more flexibility in approaching tasks, and greater levels of freedom to do their work at alternative times and locations. 
For companies worried about how they will allocate the costs associated with the use of devices, Gartner's Vice President David Willis suggests that they only pay for the price of the service plan rather than the device itself.
Allowing personal devices at work can help improve employee satisfaction.
Increase productivity with personal devices
In addition, 2013 research from Cisco IBSB reveals that the use of personal technology can influence the overall level of productivity that a company experiences. About 36 per cent of employees who can use their own devices at work reported that they saved themselves two or more hours a week as a result.
This is in contrast to common worries that smartphone and tablet use could be detrimental to productivity, proving that employees are willing to be proactive in how they utilise devices to accomplish more.
Overall, it's apparent that you may experience a world of new solutions and improved capabilities if you choose to be open to personal devices in your business, rather than succumbing to the mobile-paranoia.