Why should you cultivate a diverse workforce?
Friday March 18, 2016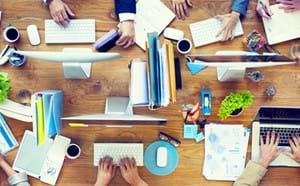 The world is filled with people of all different types, personalities and abilities. This should also be the case for the workplace, where people from a variety of backgrounds and expertise can work together to contribute to the overall dexterity of the business.
Actively seeking diversity in areas such as digital IT recruitment allows companies to promote their inclusiveness and increase their profitability as a result.
Diversity originates from the tone set by those in leadership.
How do you implement diversity?
The Australian Government defines diversity as taking on employees with a variety of attributes and backgrounds including different genders, ethnic groups, ages and levels of experience. The Recruitment Company's People and Performance Director Sarah Banek says that obtaining a diverse workforce comes down to the values, and employment and growth strategies of a business.
"We have really good systems for hiring, performance coaching and promoting, which is all based around our values, cultural fit and ability", she says.
Approaches like this can help to ensure that a business remains fair and consistent in its dealings with all types of people. This involves addressing equality issues such as bridging the gender pay gap. It's important that the same policy is extended from the recruitment process all the way up the hierarchy, encouraging a balance in the leadership roles which set the tone for the rest of the company.
"Nothing impedes anyone from moving up the ladder within the organisation, which is essentially where the diversity of leadership has come from", says Sarah, highlighting the route to diverse leaders.

There are a number of benefits for companies who cultivate diversity among their employees.The benefits of workplace diversity
"Recruiting and retaining a diverse, inclusive group of employees lets your company reflect the world around you and makes your team better able to develop fresh ideas that will meet the needs of the whole marketplace", said Glassdoor Recruiting Trends Analyst Kim Abreu, in an article for Entrepreneur.
Diversity promotes innovation and creativity, because people from different backgrounds will have alternative views about a situation. There will be fewer skill gaps among employees and leaders, so the overall makeup of the company will be stronger and more well rounded. Additionally, a diverse business may appeal to a wider range of consumers, thereby extending its market reach.
Representing different groups can have the added benefit for recruitment, as they will be able to attract a higher quality pool of candidates. For Example,the Australian Government found that women between the ages of 25 and 34 are 20 per cent more likely to hold bachelor degrees than their male counterparts. Consequently, they are more equipped to move into positions of leadership.
Ultimately, embracing differences can improve the effectiveness of a business, and give them more options and collective expertise than ever.