The future of video recruitment
Wednesday December 12, 2018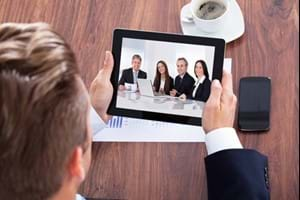 Video recruitment has gone from strength to strength in recent years, with the technology moving far beyond simple Skype interviews and now comprising everything from interactive visual CVs to company culture breakdowns in job descriptions. 
At the same time, there are some quarters that feel as though older aspects of the technology - such as video interviewing - may be on the way out. So, what does the future really hold for video recruitment technology, and what developments should recruiters, businesses and candidates be on the lookout for?
Alternatives to Skype have emerged that are better suited to the recruitment process.
Advanced alternatives to video interviewing
In years gone by, the go-to software for video interviews, and video calling in general, was undoubtedly Skype. This has changed in recent times though, leading many to predict a decline in video interviewing as a core part of the recruitment process. While it's true that use of Skype may have started to decline, the reason isn't that video interviews are no longer popular, but that new technologies have emerged that are better suited to the recruitment process. 
A great example of this is a program like Jobatar, which offers customisable scheduling features as well as a simple design that makes it easy to review interviews multiple times. This is a huge help to recruiters, as the performance of each candidate can be analysed side-by-side in order to determine who is the best fit. 
More opportunities for video content
If it's true that a picture can convey 1,000 words, the potential of video to inform an audience is all but unlimited. For this reason, video as a medium has moved beyond just the interview component of the recruitment process, and can now be found at almost every step of the journey. 
The very best examples of this in action are job listings and CVs with video components, which provide far more information to their readers than simple text alone. For example, including a video in a CV where a candidate briefly introduces their skills and experience is a great way to include extra information without taking up page after page. As an added bonus, these videos give recruiters and businesses an insight into an applicant's personality, which can be very difficult to convey through text. 
Developments like this highlight how important video technology is going to be in the recruitment industry of the future. To find out more, contact The Recruitment Company today.