Technology and recruitment: What are the new trends?
Friday November 2, 2018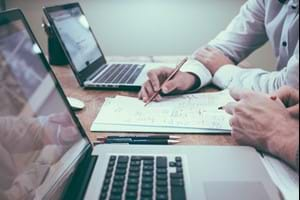 New and emerging technologies are shaping every industry imaginable, leaving traditional ways of working behind in favour of new tools and approaches that are faster, easier and more productive. In sectors as diverse as finance, retail and healthcare, this disruption has resulted in a significant reshuffling of the way businesses operate, and it's vital to stay on top of the latest trends in order to ensure success. 
The recruitment sector is not immune to these changes, and here at The Recruitment Company, we pride ourselves on keeping an ear to the ground and an eye on what's coming over the hill for our industry. At the moment, two of the biggest trends are the importance of better data and new recruitment tools. 
Predictive data makes it easier to target passive candidates who aren't actively looking for a new job.
A renewed focus on data
Across countless industries, the collection and use of data has become a critical tool - one that can be used to make better decisions in a shorter period of time. Of course, data has always been an important part of the recruitment process, typically in the form of candidate and vacancy databases. However, this approach is slowly being replaced by a switch to 'predictive data' models, which utilise artificial intelligence and machine learning to better target passive candidates who aren't actively looking for a new job.
In the highly competitive world of IT and technology recruitment, this sort of information could prove invaluable, but it is critical to ensure data is being collected, stored and used in the right way. This is what Europe's recently introduced General Data Protection Regulation (GDPR) aimed to ensure, and all recruiters who collect data need to make sure they meet their legal obligations. 
A need for new tools and platforms
In addition to changes in data usage, one of the biggest trends that we're seeing within the world of recruitment is a shift away from traditional tools and platforms (such as job boards and recruitment portals) to more innovative alternatives.
A great example of this is the use of video, which is being deployed in all sorts of innovative ways, ranging from highlighting company culture in job listings through to adding an extra spark to a candidate's CV. One of the best video products for both candidates and businesses is The Recruitment Company's Dashboard Suite, which is designed to provide all the required information in a simple, easy-to-read breakdown. 
Similarly, new video interviewing platforms are streamlining the recruitment process, making it possible to see more candidates in a shorter amount of time. Not only does this break down geographical barriers and help businesses secure the best candidate available, it also allows for easier comparison of candidates, thanks to the ability to rewatch interviews after the fact. 
Ultimately, these are just two of the trends that are currently shaping the recruitment industry. What's critical to take away from them is the simple fact that if businesses don't do their best to keep up, they'll quickly be left behind. 
To find out more about the future of our industry, contact The Recruitment Company today.