Why open source is becoming the standard for software development
Friday May 11, 2018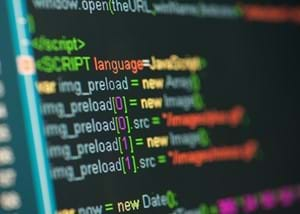 The world of software development is constantly changing. New tools and the skills required to use them to best effect are constantly emerging, necessitating a continual search for the best IT professionals in order for businesses to achieve success.
One standout example of this is the rise of open source software, particularly within large enterprises. Due to the fact that open source programs are publicly accessible, the ability to use these tools properly can make a huge difference in separating one organisation's IT capabilities from another, with the key factor being the skill and experience possessed by IT staff. 
In this article, we'll look at why open source software development tools are becoming the standard, and how they benefit businesses of all shapes and sizes.
The simple fact that most open source software is free is a clear and obvious benefit to every organisation .
How open source benefits enterprises
The first reason why software developers love working with open source is that it drastically reduces the amount of code, eliminating the need to rewrite routines that have already been written. Of course, it's not just employees who benefit from the ease-of-use that open source provides. 
For any business, cost is always a key consideration, and the simple fact that most open source software is free is a clear and obvious benefit to every organisation. In addition to no upfront costs, the price of support from open source vendors is typically less than with similar proprietary products. These savings make it possible to spend more on talented software developers and engineers, strengthening an organisation's IT team and making it possible to work faster. 
Another key benefit to open source for software development is that it helps avoid vendor 'lock in.' This means your business' infrastructure isn't running on a platform that could suddenly raise its price. In addition, there's no cost associated with deciding to switch to a new set of tools if you decide an alternative platform better suits your business. 
Finally, open source is incredibly versatile, making it possible to scale a project up as required. For proof, consider the fact that OpenStack - a set of tools for building and maintaining cloud platforms - is used by companies ranging from over 100,000 employees all the way down to smaller businesses with fewer than nine. 
Everybody's doing it
The open source revolution has been in full swing for a while now, and we've seen more and more types of open source software being made available from some of the major players in the industry. 
In December 2015, Apple made its programming language Swift open source. 
For an example of open source software that's recently been opened up to the public, look no further than the world's biggest company. In December 2015, Apple made its programming language Swift open source, stating via a press release that: "As an open source language, the broad community of talented developers - from app developers to educational institutions to enterprises - can contribute to new Swift features and optimizations and help bring Swift to new computing platforms."
Apple isn't known for giving away valuable products for free, and the company's commitment to open source shows just how important these tools have become within the world of software development. 
A final note on open source is that it places the onus of success firmly on the shoulders of IT teams. When the playing field is levelled by everybody having access to the same tools, IT recruitment becomes more important than ever, in order for organisations to rest easy knowing they have skilled professionals managing their software development.
To find out more about securing the best developers, contact The Recruitment Company today.