How will Brexit affect Dublin's tech sector?
Thursday January 3, 2019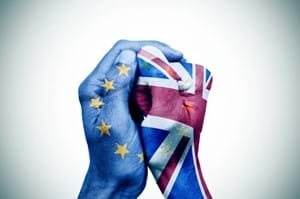 We've talked a lot on The Recruitment Company blog about the growth in Dublin's tech sector, but there are signs that this growth is only just beginning. An enormous factor in this is the implications of Brexit, which is set to completely reshape trade within the UK and European Union.
Even so, there's still some confusion as to what exactly Brexit will mean for the Irish tech industry in particular, especially when it comes to the future of big companies and their employees. 
Brexit is set to completely reshape trade within the UK and European Union.
The impact of Brexit on Dublin tech
One of the biggest talking points surrounding Brexit is the concept of the UK leaving the European Single Market. The Single Market is governed by a universal set of rules and regulations, making it far easier for businesses to operate across multiple countries without having to worry about differences in regulations. As a result, many companies are heavily incentivised to move their operations outside of the country in order to retain easy access to the massive European market. Ireland is an obvious alternative, as it retains the same language and a similar culture to the UK, while remaining a member of the European Union. 
A great example of this is the world of FinTech, where we're already seeing some of the major banks looking at relocating to Dublin. Even smaller startups are turning their eyes to the Emerald Isle, with Rob Bishop, managing director of payments company Optal describing his company's decision to expand into Dublin as a form of security.
"You don't want to get caught out at the eleventh hour. You can't assume things will be fine after Brexit and then find out they aren't," he explained to The Financial Times.
As tech firms continue to expand in Dublin, the capital has been ranked as one of the top cities in the world for foreign direct investment https://t.co/IsNN1IR9bl

— Fora.ie (@Fora_ie) December 10, 2018
New opportunities emerging
While the departure of businesses isn't great for the UK, it's fantastic news for Ireland, and the Dublin tech sector in particular. The biggest benefit is the boost to the economy, with a period of growth resulting in increased wages and job opportunities. At the same time, as tech companies in Dublin and across Ireland continue to grow, there's an ever-increasing need for talented IT&T professionals, many of whom are coming in from other parts of the world. 
This has resulted in a varied, multicultural workforce that are able to enjoy a high quality of life and an enormous variety of work opportunities. Of course, it's still vital to match up the right employees with businesses where they'll be a good fit. That's where expert recruitment comes in, and you can get in touch with The Recruitment Company's Dublin office to find out more.